DUE TO A CONFLICT WITH BASKETBALL GAMES AT FR. SNOCK CENTER, ST. MATTHIAS,  OUR JANUARY GENERAL MEMBERSHIP MEETING HAS BEEN MOVED FROM JAN 15 AT 4PM  TO JANUARY 20TH AT THE BOARDMAN LIBRARY MEETING ROOM AT 3PM
Don't forget to leave your shoes out tonight!  Hoping you get  sweet goodies and not a lump of coal!  Have a wonderful St. Nicholas Day tomorrow ! 
IT'S ALMOST HERE!  COME ENJOY OUR TRADITIONAL SLOVAK VILIJA DINNER AT  THE FATHER SNOCK CENTER OF ST MATTHIAS CHURCH ON SHADY RUN ROAD IN YOUNGSTOWN!
IT'S A GREAT WAY TO KEEP YOUR SLOVAK HERITAGE ALIVE!!!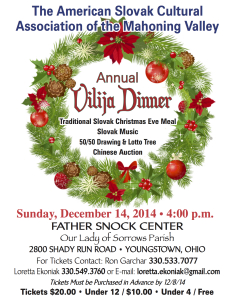 the membership application is now a downloadable form
The Scholarship page is now ready!
Check out our NEW page of photos from present day Slovakia!  if you would like to request  photos of particular places in Slovakia, please let me know!
We will have upcoming events posted and also welcome contributions by our members.
SlovakFest  August 10th
I hope to keep this website current with all that is happening with our organization