November 10, 2018
Loretta Ekoniak, President ASCA, Ralph Griffiths, USMC (fought on Iwo Jima), Dušan Hudec, Producer
The Oath:   The Michael Strank Story
On Saturday Nov. 10th, at 1:00 pm the ASCA is thrilled to have independent Slovak film-maker, Dušan Hudec, present his new film, The Oath, at  the Fr. Snock Center  at 2800 Shady Run Rd in Youngstown, OH 44502.
            Some of you may remember Mr. Hudec's film, The Final Mission, which he showed here in Youngstown in 2015. That film was about American fliers shot down over Slovakia during WWII.  This new film also is about events taking place during WWII but it concerns  events in the Pacific  theater. 
   The Oath  is the story of  Michael Strank, a U.S. Marine Corps sergeant  who was born in Slovakia. He moved to the U.S. as a 3 year old child with his mother to join his father who worked in the coal mines near Johnstown, PA.  After graduating from high school he enlisted in the Marine Corps.  Sgt. Strank fought in the Bougainville Campaign in the Pacific. Asa member of the 3rd Marine Raiders Battalian, he participated in the landing operations and occupation of  Pavuvu  in the  Russell Islands from February 21 to March 18, 1943 and in the seizure and occupation of the  Empress Augusta Bay during the Battle of Bougainville. But what he is most remembered forwas his action as the leader of the detail that raised the American flag on Mt. Siribachi on Iwo Jima, an event forever immortalized in Joe Rosenthal's famous photograph.
Mr. Hudec spent close to 4 years  on the research for this film, finding the last surviving veterans who knew Strank personally, interviewing his surviving sister in Johnstown, PA, combing the National Archives for material, and  producing both a Slovak and English version of his film so that Michael Strank would not be forgotten.  This film certainly will make sure of that. Filmmaker and Director Dušan Hudec will be present to introduce his film, and  will follow it with a chance for any questions you may have for him.
WHERE:  FR. SNOCK CENTER, 2800 SHADY RUN RD, YOUNGSTOWN, OH, AT THE OLD ST MATTHIAS                          SCHOOL (NOW SUMMIT ACADEMY)
WHEN:    1:00 PM SATURDAY, NOVEMBER 10, 2018
COST:       FREE TO THE PUBLIC, INCLUDING PARKING ON THE CHURCH/SCHOOL GROUNDS
Presented by the American Slovak Cultural Society of the Mahoning Valley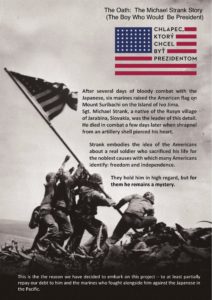 OLD Stories
Click to listen to this great concert!!
Some of you may remember Mr. Hudec's first film we sponsored here
We are so happy to have him here to show his new film, the Oath!
Final Mission 
WOW! What a wonderful screening of Final Mission on Saturday, May 16th.and what a wonderful chance to finally meet Dušan Hudec the filmmaker and Darina Smržová, his producer! We had nearly one hundred people show up to view the film and see the display of posters, and Sunday morning Dušan's interview with JP Brown on the Veterans Radio show on iHeartMedia/Youngstown.  Check out some of our photos from this event!
**************************************************************************************************************
After attending the opening night performance of Out of This Furnace at YSU I want to thank so many people who made it such a success! Thank you Dr. Irelan for this wonderful production and for believing in it's perfect fir for our valley! And thank you Nancy Wolfgang for the wonderful directing of this fantastic group of students. You could tell that you all cared deeply for this story as more than just a piece of theater! Thank you Amber Palmer for all the research you did to make the details so accurate! And thanks to Lori Factor who did so much behind the scenes support of the production, and to all of you who contr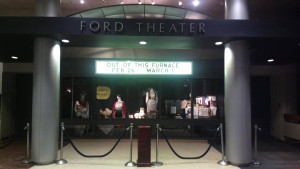 ibuted to the wonderful costuming, sets, background details and everyone else that I haven't mentioned by name! If you can, please make an effort to see this story, because it truly is OUR story!
And thank you to so many of our local Slovak (and Carpatho-Rusyn) organizations who helped by contributing to this project:
ASCA of course,
Slovaks of the Greater Mahoning Valley
FCSLA Br 161
Carpatho-Rusyn Society of Youngstown/Warren/Sharon
Simply Slavic
FCSLA Br422 
the membership application is now a downloadable form
The Scholarship page is now ready!
Check out our NEW page of photos from present day Slovakia!  if you would like to request  photos of particular places in Slovakia, please let me know!
We will have upcoming events posted and also welcome contributions by our members.
I hope to keep this website current with all that is happening with our organization