There Are Lots of exciting things going on in 2017!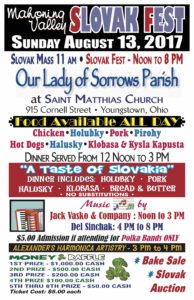 Taste of Slovakia Dinners, inside 12pm-3pm(pork, klobasa, sauerkraut, holubky and halušky)
Slovak baked goods, Slovak crystal, maps, craft items, heritage displaysBasket Auction,&

Cash Card raffle ($100, $250,     $500, $750, $1000 prizes)

MUSIC BY

Jack Vasko   Del Sinchak

1pm-3pm        4pm-8pm

September 23, 2017 1pm-?  ASCA Summer Social
October 17-21, 2017:  The Czechoslovakian Genealogical Society International Conference in Pittsburgh PA  and we will be there showing 2 movies on Wednesday evening:
Rating:  NR  •  Running Time:  59 minutes
Visit the website  http://www.finalmission.eu
AND Mr. Hudec's new film The Oath, the story of Michael Strank the Slovak-Rusyn who was one of the Marines who raised the flag at Iowa Jima
8. December 10, 2017: ASCA VILIJA DINNER
4pm
still $20!
Featuring Pittsburgh  Slovakians
COME ENJOY OUR TRADITIONAL SLOVAK VILIJA DINNER AT  THE FATHER SNOCK CENTER OF ST MATTHIAS CHURCH ON SHADY RUN ROAD IN YOUNGSTOWN!
IT'S A GREAT WAY TO KEEP YOUR SLOVAK HERITAGE ALIVE!!!
OLD Stories
A big thanks to Maria Silvestri for letting us know about this performance at the Kennedy Center on May 27th!  Cleveland's Harmonia performed with  Beata Begeniova on vocals and the wonderful musicians who  play these beautiful  Slovak numbers and joined by dancers who led a tour of Slovakia's folk regions in costume,dance and song.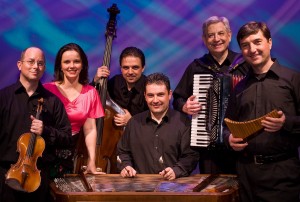 Discover the rich culture of Slovakia through music, dance, costumes, and more. Part of the Third Annual European Month of Culture. Presented in collaboration with the Delegation of the European Union to the United States and the Embassy of Slovakia.
Click to listen to this great concert!!
WOW! What a wonderful screening of Final Mission on Saturday, May 16th.and what a wonderful chance to finally meet Dušan Hudec the filmmaker and Darina Smržová, his producer! We had nearly one hundred people show up to view the film and see the display of posters, and Sunday morning Dušan's interview with JP Brown on the Veterans Radio show on iHeartMedia/Youngstown.  Check out some of our photos from this event!
**************************************************************************************************************
After attending the opening night performance of Out of This Furnace at YSU I want to thank so many people who made it such a success! Thank you Dr. Irelan for this wonderful production and for believing in it's perfect fir for our valley! And thank you Nancy Wolfgang for the wonderful directing of this fantastic group of students. You could tell that you all cared deeply for this story as more than just a piece of theater! Thank you Amber Palmer for all the research you did to make the details so accurate! And thanks to Lori Factor who did so much behind the scenes support of the production, and to all of you who contr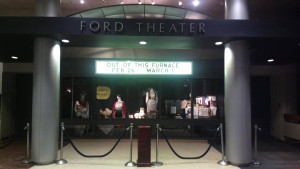 ibuted to the wonderful costuming, sets, background details and everyone else that I haven't mentioned by name! If you can, please make an effort to see this story, because it truly is OUR story!
And thank you to so many of our local Slovak (and Carpatho-Rusyn) organizations who helped by contributing to this project:
ASCA of course,
Slovaks of the Greater Mahoning Valley
FCSLA Br 161
Carpatho-Rusyn Society of Youngstown/Warren/Sharon
Simply Slavic
FCSLA Br422 
the membership application is now a downloadable form
The Scholarship page is now ready!
Check out our NEW page of photos from present day Slovakia!  if you would like to request  photos of particular places in Slovakia, please let me know!
We will have upcoming events posted and also welcome contributions by our members.
SlovakFest  August 10th
I hope to keep this website current with all that is happening with our organization